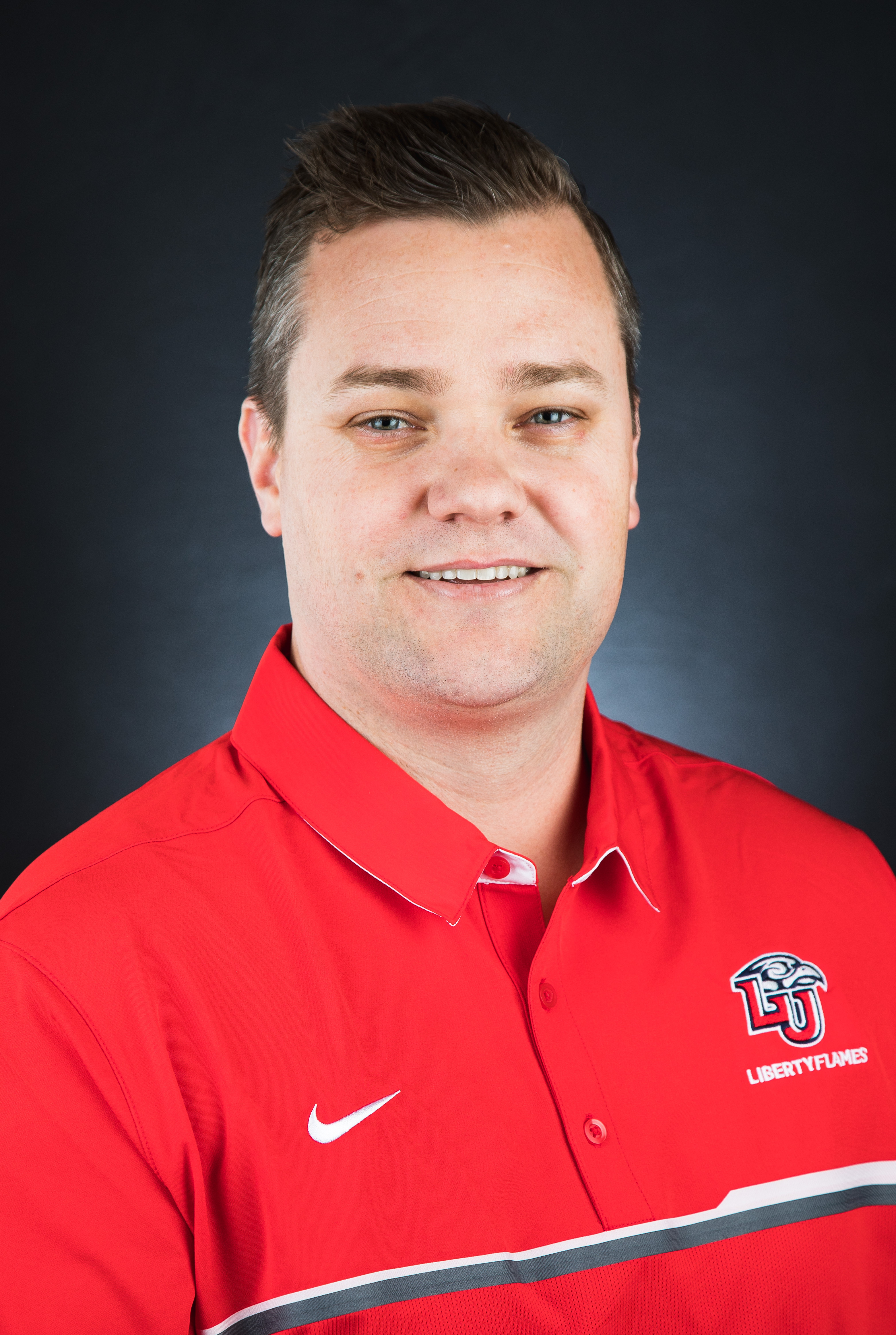 Head Volleyball Coach
Trevor Johnson
Trevor Johnson was named the eighth head coach in Liberty volleyball history on Dec. 18, 2017.
An accomplished player turned coach, Johnson came to Liberty having the distinction of being the only athlete in the history of the NAIA to win a national championship as a player, assistant coach and head coach. Johnson brings a unique blend of coaching experience to Liberty Mountain, which includes an 86-14 career record as head coach, having led a program to the 2013 NAIA national championship and earning NAIA AVCA National Coach of the Year honors.
Johnson spent two seasons (2016, 2017) as assistant coach and recruiting coordinator at Texas A&M. The Aggies landed the No. 18 ranked recruiting class in the country in 2017, as listed by PrepVolleyball.com.
During Johnson's first year in College Station, Texas A&M posted a 21-9 record and earned an at-large bid to the first round of the 2016 NCAA Women's Volleyball Championship.
Johnson's specific coaching duties with the Aggies included working with the program's setters. He helped Stephanie Aiple earn All-SEC honors in 2016 and she was named an AVCA honorable mention All-American.
Prior to his time with Texas A&M, Johnson served as the top volleyball assistant coach at Baylor in 2015. The Bears posted a 20-12 record that season, the program's highest win total in four seasons. Shelly Fanning was named to the All-Big 12 Freshman team, a first in Baylor program history.
Johnson spent five years at Concordia University in Irvine, Calif., including two years as an assistant women's volleyball coach (2011-12), one year as head men's volleyball coach (2013) and two years as Director of Volleyball (2013-15).
During the 2011-12 seasons with Concordia's women's program, the Eagles won the NAIA national title in 2012 with a perfect 38-0 overall record and posted a 37-2 mark en route to a national-runner-up finish in 2011.
Johnson's efforts with the Concordia were recognized by the AVCA in 2011 when he was named the AVCA 30 Under 30 Award recipient and the Southeast Region Assistant Coach of the Year.
Johnson also led the men's volleyball program to a NAIA national championship in 2013 during the program's inaugural season. Following a 25-7 record, he was named the NAIA Men's Coach of the Year and MAMVIC Conference Coach of the Year.
During his final three seasons at Concordia, Johnson served as Director of Volleyball, serving as head women's coach and oversaw the men's volleyball and sand volleyball programs.
Johnson guided the women's program to back-to-back GSAC conference championships and he had seven players earn NAIA All-America honors. In 2014, Rachel Flynn was recognized as the AVCA NAIA Freshman of the Year under Johnson's guidance.
Johnson served as an assistant men's and women's volleyball coach at California Baptist University in Riverside, Calif., during the 2007-09 and 2010-11 seasons. The Lancers posted a 127-39 record in his five seasons with the programs, spotlighted by the men's team winning the 2011 NAIA national championship.
The NAIA powerhouse also recorded wins over nationally-ranked Division I men's volleyball programs during Johnson's time at California Baptist, including No. 2 BYU, No. 3 UC Irvine, No. 4 Stanford and No. 6 UC Santa Barbara.
During the 2010 season, Johnson served as Director of Volleyball Operations at Cal State Fullerton.
Johnson was an accomplished volleyball player on the court during his time as a four-year starter at California Baptist. He helped the Lancers win back-to-back NAIA national titles in 2004 and 2005 and he trained with the USA Men's National Volleyball team in 2005 and 2006.
He was the NAIA national championship assists leader in 2003 and 2004 and finished his career as CBU's all-time assists leader with 3,820, a record that stood until 2011.
Johnson graduated from California Baptist in 2005 with a Bachelor of Science degree in kinesiology. He earned a Master of Science degree in kinesiology from Cal State Fullerton in 2009.
Born in Phoenix, Ariz., and raised in Cerritos, Calif., Johnson and his wife, Jane, have an 8-year-old son, Riley, and a 5-year-old daughter, Chloe.